UNDERSTANDING CUSTOMIZATION CHOICES FOR THIS ITEM
This item can be customized using several different techniques. Read below to understand each.
UV LED Direct Printing - This Product has the option to be direct printed. We use high end Memaki UV direct printers to print right on the surface of the product (see image 1 below). UV Printers use UV (Ultraviolet) LED light to cure the inks immedialtely as it's printed onto the surface of the item. We use various techniques (primers and such) to prepare the items surface so the inks adhere well. UV Direct printers get their technology from the same principal as nail salons use to dry nail polish quickly.


Laser Engraving - This Product has the option to be laser engraved. Our Laser equipment consists of CO2 lasers that are used to etch, or cut the surface of an item (see image 2 below). Our laser engravers do not cut metal. We do etch into wood, glass, acrylics and other products. Often we laser engrave (to remove) the surface (color) of an item to reveal a color underneath. Some items we laser engrave also receive a color paint fill in the engraved area. Check the product description for info specific to Laser Engraving this product.


Submitting Text - With regards to spelling and capitalization it's important to enter the text exactly as you want it on the product. For example, if you want ALL CAPS, then be sure to enter it that way in the form, or your upload file. It is your responsibility to ensure the text (spelling and capitalization) is correct. We will always center the text unless you specify otherwise in the special instructions. If you use a small amount of text, we will make it larger. We will always fit the text appropriately into the space unless you give us other specific instructions.
Our systems are computer driven and work with just about any font. When no special instructions are provided, we will always center the text, size it for best fit, based on what you submit, and select an approiate font. In the special instructions space, you can request a specific font, or a style of font. You might let us know you want a script font for example. NOTE- If you specify a sprecific font, and we do not have the font in our system, we will ask you to provide the font file (.ttf) file from your computer. It is possible to upload .ttf files to your order (Upload info below).
NOTE - If it's your first time ordering a product with customzation, we suggest you request a proof by selecting that option on the order details page (proof info below).
If you are placing a repeat order and want the same personalization, just be sure to select the same type process, and mention that in the special instructions and list the old order number.


Submitting Images - Many products that offer customization allow an image to be provided. NOTE - Trademarked and copyrighted images cannot be used without permission from the trademark owner. UV Printing is more forgiving if your image is not high (quality) resolution. Laser Engraving does have special requirements (See below for special laser image requirements). Please try to provide high quality images whenever possible. Typically images found on social media and websites have been reduced in quality so they load faster on your device, these image are often not suitable for laser engraving and may not produce well with UV direct printing.
Acceptable image file types include jpg, jpeg, pdf, png, bmp, ai, eps, psd, tiff, ttf, cdr. We cannot accept images submitted (embedded) in a word document. Please note - the upload link will not be shown until you complete the order. (See UPLOAD info below) Please mention any special positioning or requests in the special instructions area on the form.


Laser Image Requirements - Laser Engraving requires a high resolution image. laser engravers look at the colors in your image and the engraving intensity will change with various colors. For this reason, we require a pure black and white image for laser engraving (see example image 4 below). In some rare cases, it may be desirable to work with a color image or shading, but not all products lend themselves to this.


Uploading Files - (see image 3 below) If you are uploading a file, here are some helpful tips. Acceptable file types are (text) .doc, .docx, .pdf, .txt (images) .jpg, .jpeg, .pdf, .png, .bmp, .ai, .eps, .psd, .tiff, .cdr (fonts) .ttf
You can upload as many files as you need. Please provide all text info in one file. Do not upload a separate file for each product. Keep it all in one file. If you have multiple (different) products, be sure to add a note in your file and group each together.
Please note - the upload link will not be show until you complete the order. After payment you will see the link on the "thank you" page where your receipt is shown. Your email receipt will also have a link to the upload feature.


Proof - Many of our customizeable products have the option to request a proof. If it's your first order for this item, you should request a proof. Our team will send a proof email with the layout. This allows you to see the font and positioning of the personalization. You will need to reply with your approval, or change requests. Once approved your order will move to production. NOTE - Proof request can slow the order as we must await your response before we can proceed. If we do not hear back from a proof email after a few days, we may cancel the order or procced at our discretion. More info in our terms and conditions.
If you are reordeing an item with the same design as a previous order, no need to request a proof. We save all production files and we will produce the same design. Just let us know that's what you want.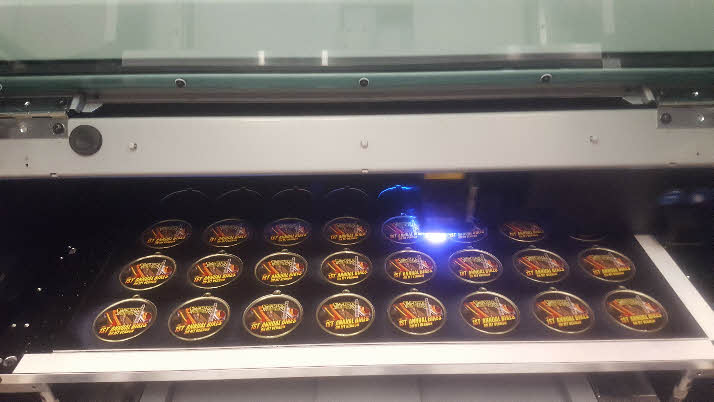 IMAGE #1
UV LED DIRECT PRINTER IN ACTION - INKS ARE CURED WITH UV LIGHT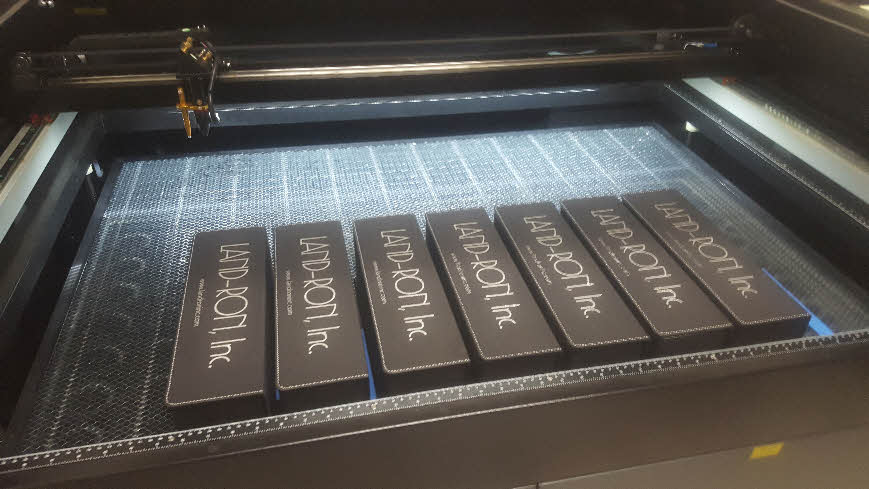 IMAGE #2
EXAMPLE OF LASER ENGRAVING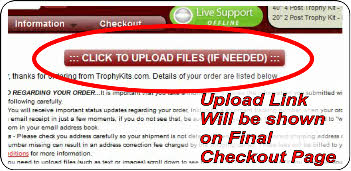 IMAGE #3
UPLOAD LINK SHOWN IN RECEIPT PAGE AFTER ORDER IS PAID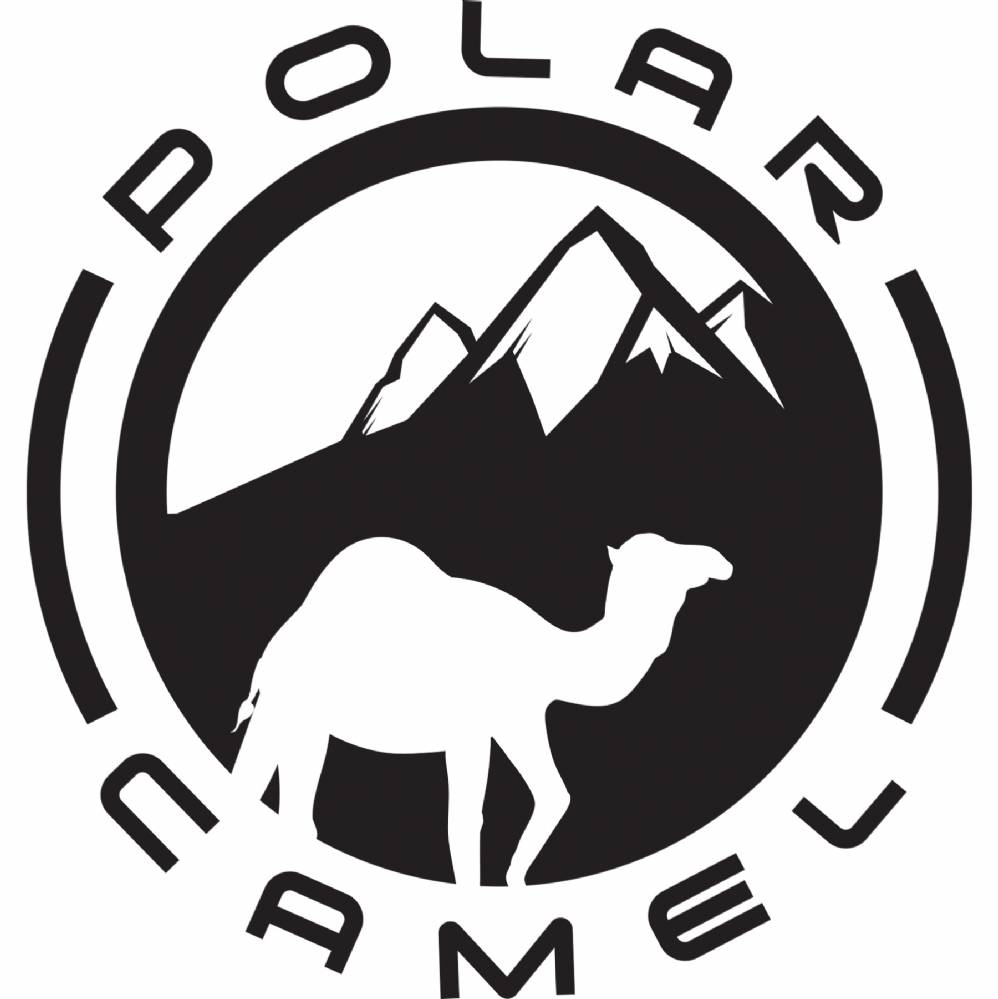 IMAGE #4
EXAMPLE OF IDEAL RESOLUTION LASER IMAGE